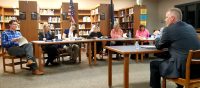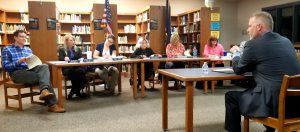 The C-PS school board interviews three candidates
(SANILAC COUNTY) – The Carsonville-Port Sanilac school board interviewed three candidates Saturday morning, as they continue their search for a new Superintendent to lead the district.
Under the leadership of Richard Ramsey, a Michigan Association of School Boards representative, the board met this past weekend in the high school library and asked a list of prepared questions to Scot Bular, Douglas Muxlow and Ryan Eugster. The three had advanced to the interview session, from a list of 23 candidates reviewed by the board.
Bular, a current C-PS employee who has worked his way up through the ranks of staff and administration of the district, said he felt his experience in the classroom and office has prepared him for the new position. Bular has served as a classroom instructor and a principal.
He told board members if selected as Superintendent, he would maintain an open door policy to everyone and felt it was important to have a good working relationship with the board. Bular told the board he feels the lack of elective classes and other factors have led to decreased enrollment in the district.
Douglas Muxlow, a former Superintendent at Brown City, said he felt it was important for C-PS to have a vision for the future and a plan to get there.  He said he would be visible to students, staff and administration and also felt it was important to stay connected to the community through mass emails, social media and face to face contact.
Muxlow said he strongly feels communication is key to a successful district and has extensive experience in budgeting, contract negotiations and other skills to perform the Superintendent's position. The candidate said he feels pre-school and kindergarten programs are extremely important as they are the first taste of the district for students and parents.
Ramsey, who led the board in the interview and selection process, said after the Saturday session that the board decided to have all three candidates return Thursday, April 25th for a second round of interviews.
He said the session will begin at 6 p.m. with interviews set for 6, 7 and 8 p.m.  A decision on a new top administrator could be made by the end of the night and Ramsey said whomever is selected, will begin their new duties with the district July 1st.