Bob Armstrong

Bob joined the staff of WMIC and WTGV on December 9, 1971, the day after he graduated from Ferris State University. His first position was Program Director, and on April 1, 1975, he became General Manager.   Since he was a youngster Bob always knew radio was in his blood. While in college, he got experience working at radio stations in Bad Axe, Cadillac, and Port Huron. Bob enjoys all aspects of the radio business, and still works on the air doing newscasts and special events coverage. He says it provides an opportunity to communicate with our listeners and also be involved with the people who make it happen in the listening area.
Bob says, "Michigan's Thumb and Blue Water Area is a great place to live and work, and I wouldn't have it any other way. It's fun to watch Sanilac Broadcasting grow over the years, and it's because of great owners and a great staff that is very talented and dedicated."
---
Nick Lien

Nick Lien first hit the WMIC/WTGV airwaves over twenty years ago, when he was a youngster being interviewed by Bob Armstrong for a "Community Scene" segment. Since then, he's known that radio was his calling.
Nick began working part-time at Sanilac Broadcasting as a board runner at the age of fifteen. Upon graduating from high school, he attended college at Central Michigan University and received his bachelors degree in Broadcasting and Journalism. While there, he worked as a reporter for CMU Public Radio. After receiving his diploma, Nick headed back to Sandusky for another stint with Sanilac Broadcasting before pursuing an opportunity to work for several radio stations in Grand Rapids, including the legendary WLAV-FM.
When Nick received the call offering him the Assistant Manager position at Sanilac Broadcasting he was ecstatic. He couldn't be happier returning to his hometown and working with people he's known most of his life. You can catch him on the air during the evening news, as well as the host of the Homegrown Radio Show on Saturdays from 3:00 p.m. to 4:00 p.m. on WMIC.
---
Eddie Fury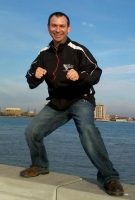 Program Director Eddie Fury brings with him over 25 years of experience in the broadcast industry. After graduating high school in 1989 and serving in the United State Marine Corps, Eddie worked in several top positions at WSGR 93.1 FM while attending St. Clair County Community College. An internship at WRXF and WLSP in the Flint/Lapeer market led to a full time, on-air gig on WRXF 103.1, or 'Radio X.' It was there that Eddie met broadcast veterans Tony Labrie and Carl Coffey, who helped further his knowledge and expertise in radio. In 2005, Eddie found himself at Thumb Broadcasting in Bad Axe, at WLEW 1340-AM and 102.1-FM, where he worked for over 14 years as a top on-air talent. Area listeners might also remember Eddie as the brains behind the sports webcast network 'Thumb Tailgater Sports,' which is now entering its tenth year. Eddie had always hoped for and envisioned himself at Sanilac Broadcasting, so he was excited when the opportunity came knocking at his door. You can hear him live weekday mornings from 6:00 to 9:00 a.m. and weekday afternoons on Swap Shop, from 1:10 to 2:00 p.m.
---
Arica Frisbey
The "new kid" at the station, Arica Frisbey has been working with Sanilac Broadcasting since she was a journalism major at Eastern Michigan University, picking up her first air shift in 2018. After graduating college and leaving behind her editor-at-large roles for the college newspaper, she returned home to put her news-gathering skills to use.
An area native, she graduated from Carsonville-Port Sanilac High School in 2014, where she credits school plays for giving her the platform to perform and gain the confidence required behind the radio mic. When not on the mic for Noon and 4 o'clock news, she's writing articles or chasing the next story down for the station.
---
Paul Osentoski

Polka host Paul Osentoski grew up in St Clair County and attended Marysville High School and St. Clair County Community College. Paul has the been the host of the Polka Show since 1979 and has been working for Sanilac Broadcasting full time since 1981. In 1996 has was honored as the Great Lakes Polka Association's "Favorite DJ" and in 2004 was invited to join the Michigan Polka Hall of Fame. Paul laments about the "old days" in radio when recordings were on vinyl or on tape. His knowledge of Polkas and Classic Country is second to none. You can hear him spinning the Polkas Saturdays from 1:00 to 3:00, and Sundays from 1:00 to 4:00.