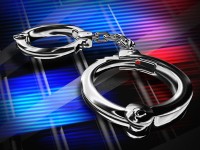 PORT HURON, Mich. (AP) – A suburban Detroit man has been charged in connection with the slaying of a St. Clair County woman 25 years ago.
St. Clair County Prosecutor Michael Wendling says 54-year-old John Germain of Hartland was arrested by Michigan State Police at his home on Tuesday in connection with the May 1997 slaying of 79-year-old Virginia Cecelia Farrell. Court records show Germain is charged with open murder, first-degree criminal sexual conduct and breaking and entering.
Wendling says Farrell was discovered beaten and stabbed to death in her Clay Township home. He says DNA evidence linked Germain to the crime scene. The Michigan State Police had two investigations into the previously cold case, one in 2007 and another in 2019.
During arraignment Wednesday, Germain's bond was set at $1 million cash/surety. He will be back in court for a probable cause hearing on next Wednesday, August 17, at 9:00 a.m. before District Court Judge Michael Hulewicz.