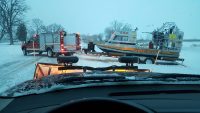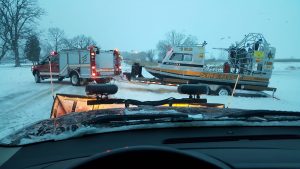 (Huron County) – Two ice fishermen died Sunday when they fell into the water off the Rose Island area of Saginaw Bay. Huron County Sheriff Kelly Hanson said officers responded about 2:30 Sunday afternoon to Fairhaven Township after learning the men were missing. A friend of one of the victims received a voice mail from a victim saying the men had broken through the ice and needed help.
Using the sheriff department's airboat, an ATV and fish shanty in the water were located a half mile west of Rose Island.
73-year old Dennis Shaw, of Fowlerville and 69-year old Willard Slider, of Caro were found after a two hour search.
Police said investigation showed the incident may have occurred about 9:30 a.m.