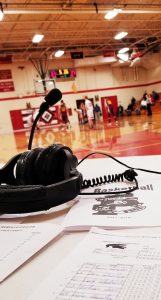 Basketball scores

BOYS
Peck 50, Deckerville 34 – The Pirates dominated from the opening tip-off, outscoring the Eagles 16-5 and never were challenged the rest of the way. In a fast-paced NCTL clash that resembled a football game at times, Peck held a commanding 32-12 halftime lead. The Pirates were led by Cole Hendley's 14 points and had 11 from Ian Sell. Kenton Bowerman topped Deckerville scoring with 15 points and Cole Romzek added seven.
North Huron 56, Owen-Gage 31
GIRLS
Brown City 61, Harbor Beach 48 – The Lady Green Devils went to the Beach and knocked off undefeated HB Thursday night. A 21-9 first quarter outburst sparked Brown City who led 39-21 at the half., Kendal Muxlow had a game-high 28 points and 16 rebounds and went 13 of 16 from the free throw line. Carly Randolph tossed in 18 points and Alexis Wiltsie added 11. Lexi Rutkowski led the Lady Pirated with 14 points and Megan Pawlowski had 10.
Sandusky 65, Memphis 8 – The outcome was never in doubt for the undefeated Lady Redskins who stayed unbeaten with the lopsided victory. Sandusky outscored their opponents 44-8 in the second and third quarter and used a 33-2 second half advantage to roll to the win. 12 players broke into the scoring column for the winners, led by Gabby Gough's 12 points.Abby Bolsby and Haley Nelson scored 10 points apiece and Taylor Calkins added eight.
Reese 54, Unionville-Sebewaing 45


Cass City 59, EPBP Lakers 44 – Sayge Cuthrell led the Lady Red Hawks with 23 points.


Frankenmuth 47, Essexville-Garber 41


Birch Run 62, North Branch 31
BOYS' BASKETBALL
Friday, December 15th
Laker at Marlette
Sandusky at Reese
Vassar at Brown City
Cass City at Harbor Beach
Bad Axe at Cros-Lex
Marine City at Yale
Almont at Dryden
Birch Run at North Branch
Memphis at Imlay City
Millington at Caro
GIRLS' BASKETBALL
Friday, December 15th
Deckerville at Peck
Dryden at Akr.-Frgve.
Owen-Gage at North Huron
Flint International at Bay City All-Saints
Mayville at Caseville
Cros-Lex at Lapeer
Kingston at Carsonville-Port Sanilac
Algonac at Marine City