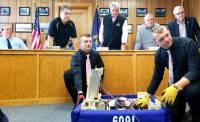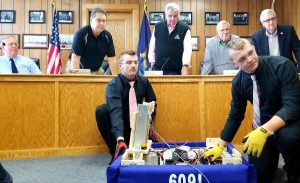 Members of Eagle 1 – the Deckerville Robotic team, made a presentation
to the Sanilac County Board of Commissioners Tuesday afternoon.
It was a lengthy Sanilac County Board of Commission meeting Tuesday afternoon, highlighted by a presentation by the Deckerville Robotics team. The team, comprised of six sophomores, brought their robot to the meeting and demonstrated to the Board and guests how "Eagle 1" works. Mickaela Warczinsky explained the program to those present at the meeting and pointed out when the team first formed, they were eighth graders, competing against larger high school teams.
The First Robotics program also awards scholarships to students planning on going in to various engineering programs.
Board Chairman John Hoffman commented, "this was great. We enjoyed seeing the students and how hard they've worked.  I am really impressed with the work they have done, and well they are doing at competitions. It's certainly something to be proud of. We thank them for taking time to come to the meeting."
The popularity of the program is growing at Deckerville. Currently, students involved include Warczinsky, Emma Beaver, Marshall Stone, Derek Dreher, Travis Trigger and Justin Trigger.