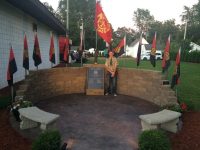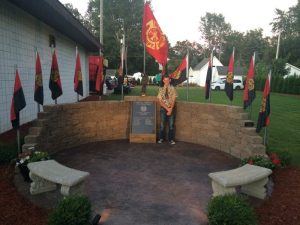 Josh Gomez stands with the new memorial site
A drive by the Sandusky Community Fire hall will reveal it's newest addition, a memorial constructed by 17-year old Sandusky senior and Eagle Scout Josh Gomez, honoring 13 fallen firefighters from the department.
Gomez completed the project earlier last week and a dedication ceremony was held last Friday evening. The new monument is located directly south of the fire hall along South Elk Street.
13 flags line the memorial wall, one for each fallen firefighter, including one that was a line of duty death.