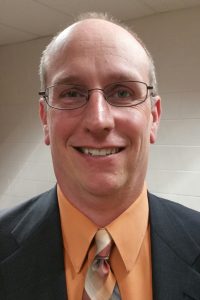 Paul Flynn
The Sandusky school board came to an agreement on a three-year contract with new Superintendent, Paul Flynn Wednesday evening, paving the way for Flynn to start as the district's new top administrator July 1st. Flynn, who was at the meeting, will be paid $108,000 annually plus benefits.
Board President Dr. Robert Hassler said the contract is similar to the one with current Superintendent Michael Carmean who is retiring at the end of June.
Flynn has served in the Yale school district for over 20 years and was selected from a list of 21 applicants.
Meanwhile, in Deckerville, four Superintendent candidates have been chosen for interviews with the Deckerville school board next week, including one who is formerly from the area.
The board was given a list of potential candidates at a special meeting Wednesday night and selected the finalists. Leading off the list to interview is Levi (Jeffrey) Terpenning, Principal at Hillsdale schools.
Terpenning is originally from the Deckerville area and also interviewed for the Sandusky position. He will interview with the board on Tuesday at 5 p.m. Another Sandusky candidate, Jason McElrath of Hillman schools, will follow Terpenning at 6:30 p.m.
Walter Byinton, an Assistant Principal in Colordao and Michael Hugan, Principal at Harbor Beach will interview Wednesday night at 5 and 6.