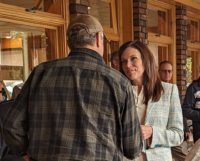 Gubernatorial candidate Tudor Dixon paid a day's-long visit to Sandusky, stopping by the likes of the Sandusky Family Diner (formerly Big Boy's)  and Mark's Barbershop Thursday afternoon while she was in the area for a fundraiser.
These two locations were significant for Dixon, being two Michigan businesses that defied COVID-19 shutdown orders, which Dixon commended when she spoke with diner owner Troy Tank and barbershop owner Mark Heberling.
Shane Hernandez, Dixon's pick for lieutenant governor and Sanilac County native, accompanied her on her stops, with county commissioner Gary Heberling and state representative candidate Greg Alexander joining her as well.
Dixon was greeted with an eager lunch crowd during her stop at the diner, receiving cheers and applause as she reiterated her small business platform. Dixon did not name what specific regulations she plans to cut as part of her promise to "slash 40% of regulations in 4 years," only saying that her team would be reviewing the entire code of regulations to find what she deemed unnecessary.
Having had a fundraiser at the Michigan Sugar Company Piling Grounds in Sandusky, where tickets went for $150 per individual and $250 per couple, Dixon is scheduled for another fundraiser on Friday, September 23 in Muskegon County, where she will be joined by former Michigan governor John Engler and Donald Trump Jr.