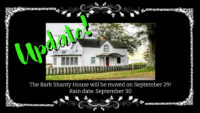 After sitting in the same spot for nearly two hundred years, a historical Port Sanilac house will be moving to a new home on Thursday, September 29.
The Bark Shanty/Aitken House is in for a very short trip, only being moved to the grounds of the Sanilac County Historic Village and Museum from its spot just north of the Port Sanilac lighthouse following its acquisition earlier this year. It had been originally offered to the historical society back in October 2021 by owner Julie Fagan, with the society later putting up the first $25,000 to move the home to the museum, relying on donations for the remaining $75,000 needed for the move and laying the new foundation.
However, according to museum administrator Dawn Malick, more donations are needed for the repairs and restoration of the 170-year-old home, and those interested in helping can make their donations to the museum in the following ways:
⦁ Online at  Donate (sanilaccountymuseum.org)
⦁ By mailing a check made to "SCHS", with Bark Shanty House on the memo line, to SCHS, P.O.Box 158, Port Sanilac, MI 48469
⦁ By calling the Museum at 810.622.9946, Tuesday-Friday, from 11am – 4pm, to donate by credit card.
For those who are interested in seeing the Aitken House's journey, they are "invited to set up lawn chairs along the route of the move, on Lake Street and M-25."
The Bark Shanty/Aitken House was built in 1853 on the site of an old lean-to on Port Sanilac's shore that served as a make-shift lighthouse. The home belonged to the Aitken family, who later settled in Croswell in 1894 and funded the expansion of the town library which now bears the name of family patriarch and lawyer William Aitken.