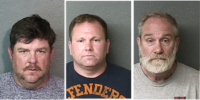 With many upset and asking him about his involvement in the reduced bonds of three men who were caught in the July 12 Thumb Area human trafficking sting, Huron County Prosecutor Tim Rutkowski says that it wasn't his decision: "I argued that the $500,000 bond should be continued, but the judge didn't agree."
He went on to note that prosecutors can only recommend bond and bond amounts, with his original bond recommendation in the case having been $750,000 each, but it's ultimately up to the judge to decide and set the bond. Rutkowski says he does not know the judge's reasoning behind the reduction to $10,000 at 10%, noting that the judge decided on Friday, July 22, following a motion from the defense to reduce the amounts. The new bond amount allowed the men to leave the Huron County Jail after paying $1000.
His statement implied that it was Kyle O'Mara, the attorney representing two of the accused men, who filed the motion. O'Mara is representing Kevin Manor, age 56 of Sebewaing, and Daniel Horetski, a 45-year-old former Arizona police officer turned Port Austin resident. The third man, Jeremy Susalla, age 40 of Ubly, is being represented by lawyer Michael Murawski.
The three men are accused of "shopping" around on internet sex and prostitution sites in hopes of finding an underage partner earlier this summer, instead finding decoys from the Huron, Genesse, Sanilac and Tuscola county Sheriff Offices.
With the men admitting sex as their intention following arrest at the sting location, authorities charged them all with accosting a minor for immoral purposes, using a computer to commit a crime and child sexually abusive activity. Two of those charges carry a 20 year prison sentence upon conviction.
The men are due back in court on Friday, August 26, despite a court date having been originally set for this week.