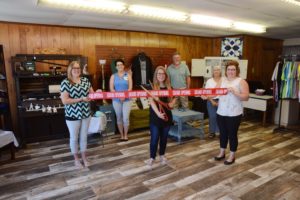 Chamber member names in photo: (Left to right- front row) Andrea Donley, Lizzetta Sanchez (store owner), Sarah Kady, (left to right – back row) Sara Redman, John Scott and Sheila Lambert. Photo credit: Scott's Studio
The Marlette Area Chamber of Commerce recently welcomed Ayre Street Graphics & The Opera House Boutique with a grand opening ribbon cutting. Located at 6439 Morris Street, within the old Opera House, owner Lizzetta Sanchez offers an array of unique products.
Lizzetta's graphics business began in 2016 out of her home. As business expanded, she decided to invest in a storefront downtown which allows her to do graphics on one side and a boutique on the other. Ayre Street Graphics provides custom tees, hoodies, mugs, home décor, signs, banners, and vinyl.
The boutique features handmade items from local artisans and boutique-style women's and children's clothing and accessories. The business is currently family-owned and operated, and Lizzetta chose to operate in Marlette because she grew up locally and loves the town and people. She is open Monday – Thursday 10 a.m. – 5 p.m. and by appointment.
Many of her products are posted on the Ayre Street Graphics & Boutique Facebook page. Contact Lizzetta today for a custom order at 989-912-8619 and visit her in downtown Marlette for a unique shopping experience!
###