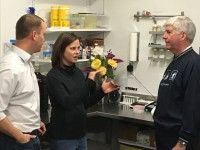 (CROSWELL) — Governor Rick Snyder was in the thumb Friday as part of a push to promote economic growth and tourism in the area. Speaking at Three North Vines Winery and Vineyard in Croswell, Snyder commented that his trip to the thumb gave him an opportunity to experience what he called the area's three pillars of economic growth: manufacturing, agriculture and tourism.
"So I started the morning at Dairy Farmers of America. Then I actually went to a place called the Gemini Group, and they're an automotive supplier doing wonderful things in metals and plastics. And then our third big industry is tourism," Snyder said.
He added that combining the thumb's various resources is key to ensuring tourism growth in the area.
"The other part of the tourism industry that we're really emphasizing–because we did a lunch where we asked people from all over the Thumb to come–was about getting people to work more closely together. Because you have a lot of wonderful resources here. But the more we can say how they all connect and how they all work together, it makes it a lot easier for us to promote across all of Michigan, across the country, and across the world."
From Three North Vines Winery, Governor Snyder embarked on a three mile bicycle ride to Lexington, where he visited the Lexington Brewing Company and Wine House.
Friday marks Governor Snyder's second trip to the thumb in two months. In August, Snyder was in Sandusky to discuss the state's "Rising Tide" program.