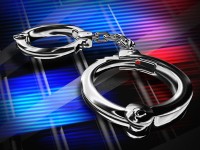 The St. Clair County Drug Task Force was busy last week, arresting three people in two different investigations of drug sales in the Port Huron area.
At 8:00 p.m. on Tuesday, August 2, DTF agents executed a search warrant at a home in the 1600 block of Wells Street, concluding an investigation into methamphetamine sales across the area. They arrested the home's two residents, a 34-year-old man and a 35-year-old woman, and found methamphetamine and suboxone, as well as tools for weighing and packaging the drugs.
The man and woman are facing charges of possession of a controlled substance, possession with intent to distribute, and maintaining a drug house. The US Border Patrol K-9 unit assisted with the investigation.
The next day, Wednesday, August 3, DTF agents executed a search warrant at an apartment in Port Huron's 600 block of Taylor Street that was suspected of housing heroin sales. A prepackaged dealer amount of heroin was located in the apartment, with the 60-year-old suspect was located and arrested at a local gas station.
He is currently in St. Clair County Jail awaiting arraignment.