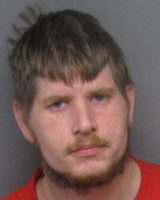 The Sanilac County Sheriff's Office is looking for the driver of a suspected intentional hit-and-run in Lexington Township on Monday morning.
Deputies were dispatched to the scene at Harrington Road, east of Eighth Road in Lexington Township, around 3:26 a.m., finding the male victim lying in the ditch with his motorcycle. The victim was transported via Croswell EMS to McLaren Port Huron before being transferred to McLaren Macomb Hospital for further treatment.
Investigators believe that the crash was intentional, and have recovered the vehicle they suspect was used in the crash– but not the driver. The Sanilac Sheriff's Office is requesting help in finding Shawn Patrick Woodruff, 27-years-old from Croswell, described as a white man with brown hair and blue eyes. He was last seen wearing a black Lerma Concrete t-shirt and gray sweatpants and should be considered dangerous.
The Sheriff's Office would like to add that they are aware of multiple social media posts indicating that the suspect is in custody, and reiterate that the suspect is still at large.
If you have any information about Woodruff's whereabouts or the crash are urged to call Sanilac County Central Dispatch via 911 or the non-emergency number, (810) 648-2000, ext. 2.