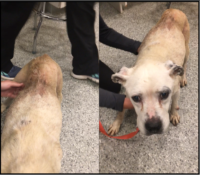 Two dogs have been rescued from deplorable conditions and negligence following an investigation by Sergeant James Hunt at a Port Hope residence last Friday, June 17.
Sergeant Hunt was in the area for an unrelated complaint when he heard several dogs inside the Main Street residence. Upon asking neighbors and learning that the last time the dogs may have been cared for was three days before, he returned to the residence and found the door unlocked.
Inside he found a sheep dog and pitbull living with large amounts of dog waste on the floor, flies infesting the home and bothering the dogs, with other household debris strewn about. With both dogs having lice, open sores and dried fecal matter on them, Sergeant Hunt called the Sanilac County Animal Control, who transported the dogs to the Thumb Animal Shelter. The responding veterinarian found many issues plaguing the dogs, with one of them having chewed a part of their tail raw to try and deal with the insect swarms.
Investigators later learned that, while the original owner is unable to take care of the dogs due to a medical condition requiring them to live elsewhere, the current caretaker was located, and he admitted the house conditions were bad enough to require boots indoors.

The dogs have been taken to the shelter for further care, with possible neglect and cruelty charges being sought from the prosecutor's office.