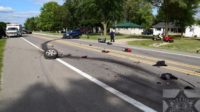 It only took a Lapeer County jury 2 hours to find Michael Burns of Davison, formerly of North Branch, guilty on four charges in connection to the car and motorcycle collision that killed a Marlette couple in August 2019. Burns, 45, is now convicted of two counts of operating while intoxicated causing death, two less counts of the offense than the previous charge in the case, and two counts of reckless driving causing death.
On the day of the crash, August 25, 2019, witnesses had seen him in his 2005 GMC Envoy, driving erratically in Mayfield Township.It was about 3:40 p.m. when Burns crossed the road's centerline as he drove northbound on M-24, slamming head-on into a Harley Davidson.
The bike's riders, 53-year-old Brian Stamp and 51-year-old Rhonda Mahaffy, were wearing their helmets at the time of impact, but were pronounced dead at the scene. With cocaine in his blood at the time of the crash, Burns sustained non-life threatening injuries and was taken to McLaren Lapeer Region Hospital.
Burns is currently housed at the Lapeer County Jail to wait for his August sentencing, having had his bond revoked upon conviction.