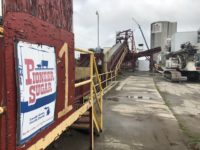 Croswell's Michigan Sugar factory was shut down for the day following an 8:00 a.m. call threatening to bomb the plant. Croswell Police Chief Ron Buckmaster confirmed that the plant was evacuated and searched for a bomb this morning, with nothing being found on the property so far.
The local Geiger elementary and Croswell-Lexington high schools entered lockdown as a precaution, with police officers present on school premises when students later exited the building. Michigan Sugar reported to police that the caller was hard to understand but had warned them "you should be scared," after mentioning a bomb, going on to threaten finding three supervisors at the plant. Chief Buckmaster noted that the day before the bomb threat, an employee had been found sleeping, and for safety reasons, Michigan Sugar had asked the Flint company they subcontract with and who hired the employee to not allow the employee back. Three supervisors with Michigan Sugar had been present at the meeting in question, though it is not clear if the employee was fired.
The employee is currently a person of interest in the investigation, with the plant providing a picture of the suspect to security. They will be checking vehicles that enter the factory, and are requiring the Flint company to provide a list of employee names that come to work for the plant, with those employees needing photo ID to match.