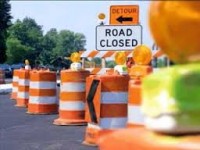 Plenty of summer road work gets underway starting next week in Lapeer and St. Clair counties, focusing on maintenance and life extension. The M-24 carpool lot in Columbiaville will be closed for resurfacing next Monday, June 13 until Thursday, June 16. The lot, located north of Barnes Lake Road in Lapeer County is due for the work to smooth out the lot and extend its life.
Meanwhile, in St. Clair County next Monday, several projects will also be kicking off. Temporary lane closures are imminent next Monday on Rabidue Road in Clyde Township. Contractors with the county road commissioners will be laying hot asphalt down on Rabidue for a half mile north of Lapeer. The project is expected to end by Tuesday, June 21, with road access for residents maintained by flaggers.
Drivers in Kimball and Port Huron townships will be seeing construction on Griswold Road starting next Monday, too. The work, which will focus on Griswold between Allen Road and the I-69 Business Loop will include milling, resurfacing and marking the existing asphalt, as well as reconstructing a railroad crossing. The St. Clair County Road Commission estimates the project will take about 2 weeks, barring any major delays. The posted detour is to follow Michigan Road, north to Lapeer Road, then west to 32nd Street and south to Griswold. Work between Allen Road and Michigan Road will be accomplished with daytime lane closures, while work between Michigan Road and 32nd Street requires a week's full closure of the road.