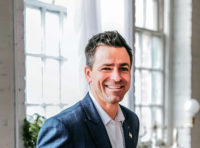 GRAND RAPIDS, Mich. – FBI says it has arrested Ryan Kelley, one of five Republican candidates for Michigan governor, with a spokeswoman confirming this morning that agents are searching Kelley's home in Allendale. He was released without posting bail following a brief hearing this afternoon at Grand Rapid's federal court, with him being arrested on four misdemeanor charges for his role in the Capitol Riot.
The charges are as follows: entering or remaining in a restricted building or grounds without lawful authority, disorderly and disruptive conduct in said restricted area, knowingly engaging in an act of physical violence against a person or property in the restricted area, and willfully injuring government property.
The news comes 17 months after Kelley travelled to Washington D.C. for the protests and insurrection on January 6, 2021, where video emerged of Kelley saying things like "Come on, let's go…This is war, baby!" as he moved towards the Capitol building. He claims he did not enter the building, though he was seen on video climbing scaffolding on the building.
He is also known for a comment in January of this year where he told Livington County residents to tamper with voting machines by unplugging them if "you see something you don't like happening with the machine," despite such tampering being a felony in Michigan.
Kelley's campaign could not be reached immediately for comment, though the candidate's Facebook page now contains a post saying "political prisoner."
You can read the criminal complaint against Kelley, as well as the statement of facts attached to it, below.
Complaint:
Statement of Facts: