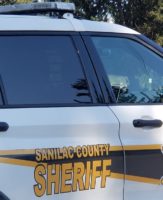 BREAKING NEWS:
The Sanilac County Sheriff Department has reported the missing Sanilac County teen has returned home, on his own accord, as of 11 a.m. Wednesday. They did not say if the teen had any injuries or why he had left in the first place.
Police had been seeking the public's help in locating a County teenager who reportedly left a Worth Township home early Tuesday morning. According to the Sheriff Department, Alexander Dwyer was last seen in the 7200 block of South Lakeshore Road in Worth Township.
The 14 year old was last seen wearing blue jeans, brown shirt, black leather coat, and his backpack. It is believed that Dwyer left on foot between 5:00am and 7:00am Tuesday morning.