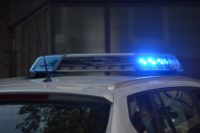 An Ubly man sustained injuries in a two-vehicle crash in Sanilac County's Greenleaf Township Tuesday morning.
According to the Sanilac County Sheriff Department, Central Dispatch received a 9-1-1 call regarding a two-vehicle injury crash at the intersection of Cass City Road and Leslie Road in Greenleaf Township around 10:30 a.m.
Deputies along with the Cass City fire and MMR Ambulance were dispatched to the scene.
Deputies report a 2001 Ford F-350, driven by an 84-year old Ubly man, was southbound on Leslie Road and failed to stop at the stop sign at the intersection with Cass City Rd.
The Ubly man's vehicle was struck by an eastbound 2011 Ford F-350 driven by a 65-year- old Ruth male. The Ruth man's truck was hauling a cattle trailer and also had the right of way.
Deputies say the Ubly male was taken to Hills and Dales Hospital in Cass City by Cass City MMR for treatment of injuries.
He was also cited by deputies for a violation related to the crash.