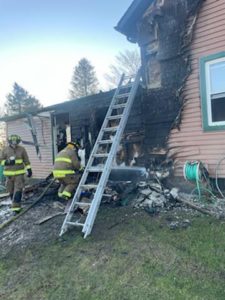 (SANILAC COUNTY) – A three-alarm structure fire caused extensive damage to a Sanilac County home early Sunday morning.
A barking dog can be credited with alerting an occupant of the burning home to the quickly spreading danger.
According to Port Sanilac Fire Department Chief Doug Moran, his department was called to a home on fire in the 6000 block of Walker Road around 6:30 a.m.
Upon their arrival, the back side of the residence had heavy flames coming from the two-story structure.
Chief Moran said the flames had spread into the residence and was spreading quickly inside the home. Mutual aid units from Carsonville and Applegate responded to the scene as more than 30 firefighters quickly extinguished the flames, preventing further damage to the home.
A female, and lone occupant of the residence, told firefighters she was the only one in the home at the time of the blaze and was sleeping when awaken by her dog barking.
She went downstairs to find flames in her kitchen and quickly grabbed her dog and escaped the burning home.
Chief Moran said investigation showed the family had a rabbit coup with a heat lamp in the area of where the fire had started. Firefighters used around 3,000 gallons of water on the flames before clearing the scene shortly after 9 a.m.
The American Red Cross was called to assist the family with their immediate needs.
Sanilac EMS stoodby during the three-hour incident, providing assistance to firefighters