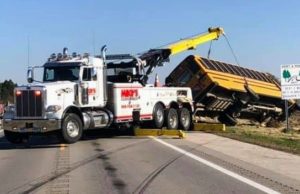 (TUSCOLA COUNTY) – A rollover accident Monday morning,
involving a school bus loaded with students, caused some anxious moments and sent several people to the hospital for medical treatment.
According to the Tuscola County Sheriff Department, a school bus transporting several students from the Fairgrove/Akron Schools were enroute to the Tech Center in Caro at the time of the crash.
Deputies say the bus was traveling east when it was struck by a southbound vehicle.
The driver of a 2015 Chevrolet Trax, a 38-year-old woman from Fairgrove, had stopped at an intersection before continuing into the crossing and striking the bus.
The bus driver, a 35-year-old Reese woman, lost control of the bus due to a broken axle causing the bus to leave the roadway and overturning in a ditch.
Four students were treated at area hospitals for non-life threatening injuries while the bus driver was also transported to a local hospital for treatment.
The driver of the passenger vehicle refused treatment.
Deputies were assisted by the Caro Police an d Fire Departments along with EMS units from MMR and ACW Ambulance.
The accident remains under investigation.