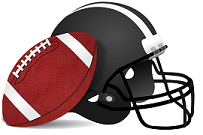 (THUMB REGION) – The Michigan High School Athletic Association post season for football is one week away from kicking off and as of this week, with one week left in the regular season, there are 22 teams from the listening area that have qualified.
Another four teams are on the outside looking in and are hoping for help to gain play-off points.
The top 32 teams in each 11-man Division qualify for the post season, along with the top 16 teams in Division 1 and 2 in 8-man football.
In 11-man, Division 2, both Port Huron High and Port Huron Northern would be in.
St. Clair, Croswell-Lexington and North Branch are among the top 32 in Division 4 while Frankenmuth, Marine City, Armada and Richmond are listed in Division 5.
Millington and Almont are Division 6 teams headed for the play-offs while in Division 7, Bad Axe, Reese and Laker appear to be a lock.
Division 8 has Ubly, Marlette, Harbor Beach and Cass City as qualifiers.
In 8-Man football, Deckerville is in the post season for Division 1 while Kingston and Genesee are on the outside looking in.
In Division 2, North Huron, Peck and Bay City All-Saints are in the play-offs. Final qualifiers will be announced following the results of Week 9 of the regular season.
Play-off points will be updated following the results of Week 9 games to be held Friday night. The MHSAA Selection Sunday Show will be held at 5:30 this Sunday on Bally Sports. Pairings and location of first round games will be announced during the show.