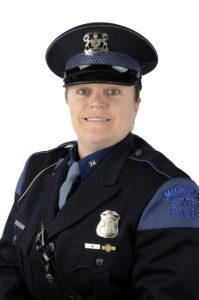 The Michigan State Police Third District Commander, Captain Ryan Pennell, has announced that Tpr. Bethany Craig has been selected as the MSP Third District Trooper of the Year.
In his announcement, Captain Pennell stated, "Tpr. Bethany Craig's diligent work to solve complex child sexual and physical assault complaints, leadership skills, and personal dedication to her community make her an excellent selection as the Third District Trooper of the Year."
Trooper Craig will now be the MSP Third District's nominee for the departmental overall Dr. Carl A. Gerstacker Trooper of the Year award to be selected and announced later in the year.
Trooper Craig, who resides in Sanilac County, has served at the Caro Post since 2001 and has also been assigned to the Brighton and Sandusky Posts following graduation in in 1999 as a member of the 118th Trooper Recruit School.
She has dedicated her career to investigating child physical and sexual abuse incidents.
Trooper Craig was recently recognized by the Caro Exchange Club as their 2021 Officer of the Year because of her diligent investigations and acting as an advocate for child victims.
She also assists the Sanilac County Child Advocacy Centers with prevention education, fundraisers and Kid's Empowerment Camp.