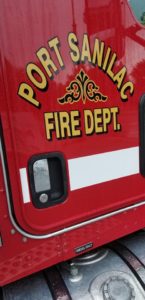 (SANILAC COUNTY) – A two-alarm fire in Sanilac County's
Forester Township destroyed an out-building Saturday evening. The Port Sanilac Fire Department responded to the structure, a detached garage, in the 6100 block of Downington Road just before 6:30 p.m. and found a fully engulfed fire.
Fire officials say firefighters had the blaze extinguished in a matter of minutes with damage confined to the structure and no other nearby buildings.
Fire officials believe the cause of the fire was determined to be from a lawn mower that was previously used a few hours prior to be stored in the garage.
The Port Sanilac fire department was assisted by the Deckerville fire department with crews remaining on scene for around an hour.
Fire personnel remind everyone to be sure to allow engines on lawn equipment to cool down before being placed in storage.
No injuries were reported.