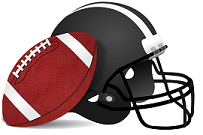 Marlette 63 Memphis 20
The Marlette Red Raiders enjoyed their homecoming game with Memphis Friday night, rolling to a lopsided 63-20 victory in GTC-East action. Myles Parker led a potent Marlette rushing game, gaining 107 yards on 17 carries and scoring three touchdowns. Quarterback Jason Tenbusch finished the evening going 6 of 9 passing for 157 yards and a pair of scores. Receiver Grant Roberson had three catches for 93 yards. The Red Raiders 35 first half points and 21 more in the third quarter to blow the game open. The winners ended the game with 534 yards of offense with 384 of those yards coming on the ground.
C-PS 48 Ashley 28
Coach Eric Hartsell continues to be pleased with the way his young squad is playing, especially after they picked up a NCTL Stripes Division win Friday night over Ashley. Nik Lewis had another outstanding game for C-PS with 140 yards rushing on 16 carries and scoring three touchdowns. He also provided some excitement with a kick-off return for touchdown covering 74 yards. The Tigers had two running backs over 100 yards rushing and nearly a third, as Mason Gorman tallied 82 yards on 10 carries. Logan Henderson gained 156 yards on 14 carries and scored a touchdown for the Tigers. Quarterback Trenton Mitchell connected on 5 of 11 passes for 118 yards and a score as part of the Tigers overall 528 yards of total offense.
Mt. Pleasant 44 Peck 36
Sacred Heart handed the Pirates their first loss of the season in a hard-fought, high-scoring game for both sides. Coach Rob McDaniel said he felt his Pirates team would be in for a battle on their home field. The two teams played to an 8-8 tie in the first quarter before touchdowns by Danny Sharrard and Nathan Robar put the Pirates up at the half, 22-16. Sharrard hauled in a seven-yard scoring strike from Dylan Rosenthal while Robar punched it in from 24 yards out late in the second quarter. Robar, who finished the evening with 33 carries and 220 yards with three scores, crossed the goal line in the second half with runs of 55 and two yards. The Pirates were driving deep in Sacred Heart territory for a potential game-tying score late in the fourth quarter, but failed to convert on a fourth down play, ending their chances.
Ubly 34 Sandusky 6
The Redskins ran into league-leading Ubly last week and came out on the short end of the 34-6 final score. Sandusky's lone score came in the fourth quarter when running back Martin Tovar scampered 35 yards for a touchdown. Ubly took a 21-0 halftime lead and were on top 28-0 heading into the final quarter. Tovar finished the game for the Redskins with 120 yards rushing on 22 carries. Sandusky will travel to Brown City this week to take on the Green Devils in a GTC-East contest.
DECKERVILLE 24, KINGSTON 20
The Eagles took advantage of a Kingston turnover in a rainstorm, scoring what proved to be the winning touchdown as a result. Cam Stone hit Brady Sharbowski for a 59-yard touchdown pass in the first quarter and tossed another to Derek Osborne, covering 26 yards in the third quarter, to highlight the Deckerville scoring. Owen Corlis, A Kingston freshman, scored three times and had 136 yards rushing on just the three touchdown runs to try to get his team a homecoming win. He scored on runs of 73, 46 and 17 yards. Kingston is at Peck this week for the Pirates home coming while Deckerville travels to Mayville.
HS 8 PLAYER FOOTBALL
North Huron 71, Caseville 22
Mount Pleasant Sacred Heart 44, at Peck 36
Mayville 72, at New Haven Merritt 40
Morrice 65, at Burton Atherton 0
Bay City All Saints 42, at Akron-Fairgrove 24
Carsonville-Port Sanilac 48, at Ashley 28
Genesee 12, International Academy Of Flint 0
HS 11-PLAYER FOOTBALL
Cass City 20, at Harbor Beach 13
Bad Axe 37, Reese 7
Caro 54, Vassar 30
Lakers 14, at Unionville-Sebewaing 0
Croswell-Lexington 41, at Almont 7
Armada 43, Imlay City 0
North Branch 49, at Algonac 22
Richmond 21, Yale 0
Ubly 34, Sandusky 6
Marlette 63, Memphis 20
Brown City 50, Capac 28
CROSS COUNTRY – SATURDAY WAGENER PARK CROSS COUNTRY INVITATIONAL
FULL RESULTS ON WEBSITE AT ATHLETIC.NET
Official Team Scores – HS BOYS VARSITY
1. Yale 38
2. Caro 71
3. Croswell-Lexington 95
4. North Branch 104
5. Reese 107
6. Deckerville 152
7. Mayville 162
8. Harbor Beach 210
9. Vassar 221
TOP 20 RUNNERS ( 95 PARTICIPATED)
1. 11 Lukas Kriesch 16:15.86 Yale
2. 12 James Elling 16:37.95 Croswell-Lexington
3. 10 Giovanni Pardo-Keegan 16:42.25 Yale
4. 10 Matthew Pattullo 16:57.53 Caro
5. 10 Utah Gusa 17:07.11 Ubly
6. 11 Connor Stefanovsky 17:08.40 Caro
7. 12 Ethan McCombs 17:16.56 Croswell-Lexington
8. 11 Ethan Green 17:32.26 Kingston
9. 10 Acer Campbell 17:48.62 Yale
10. 12 Wilbert Haines 17:50.87 Reese
11. 12 Gabriel Hutchins 17:57.82 North Branch
12. 12 Nick Knust 18:01.07 Croswell-Lexington
13. 9 Cade Truemner 18:10.39 Pigeon-Laker
14. 12 David Hadden 18:11.92 North Branch
15. 9 Kale Kovach 18:15.48 Yale
16. 9 Colin Beck 18:25.62 Deckerville
17. 12 Tyrese Beedle 18:27.33 Caro
18. 12 Braxton Shutko 18:27.99 Yale
19. 11 Wyatt Wojdula 18:28.82 Reese
20. 12 Josh R Smith 18:30.79 Sandusky
Official Team Scores – HS GIRLS VARSITY
1. Reese 78
2. Croswell-Lexington 83
3. North Branch 88
4. Sandusky 89
5. Caro 97
6. Harbor Beach 170
7. Ubly 174
8. Pigeon-Laker 232
9. Cass City 233
10. Deckerville 260
11. Yale 268
12. Marlette 344
( 107 PARTICIPATED )
1. 9 Makenzie Kreger 19:20.77 Sandusky
2. 12 Haileigh Bissett 19:27.11 North Branch
3. 10 Morgan Newton 20:03.14 Croswell-Lexington
4. 9 Reece Wruble 20:09.69 Harbor Beach
5. 10 Jenna Sweeney 20:12.65 Reese
6. 9 Eva Thompson 20:14.50 Croswell-Lexington
7. 11 Maze Gusa 20:20.12 Ubly
8. 11 Ashley Shindorf 20:23.27 Vassar
9. 10 Rachael Walch 20:31.62 Caro
10. 11 Allysen Jansen 20:37.47 Sandusky
11. 9 Maddie Huysentruyt 20:38.63 Sandusky