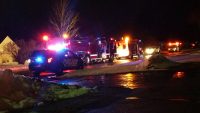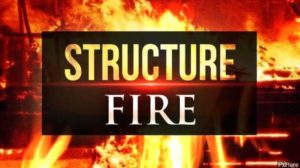 (LAPEER COUNTY) – Imlay City firefighters had an extra-quick response
to a possible structure fire earlier this week, when they were already at the fire hall for training.
Shortly after 8 p.m. Monday, firemen say they were called to a home in the 200block of Bancroft for a structure fire.
When firefighters arrived at the scene, heavy smoke was coming from the upper apartment. Emergency personnel say fire crews responded quickly and were able to immediately limit the fire's spread.
Crews say the fire started in a bedroom near an electrical outlet and was contained to that room by firefighters. Smoke detectors were present in the house and had activated, alerting the residents of the fire and are being credited with helping to save the home from further damage.
The Imlay City Fire Department was assisted at the scene by firefighters from Attica Twp., Goodland Twp., Lapeer County EMS and the Imlay City Police Department.
The American Red Cross responded and were able to provide housing and supplies for the five- member family that was living in the apartment, as well as a single tenant who was renting a lower level apartment.
The building was declared uninhabitable due to smoke and water damage.