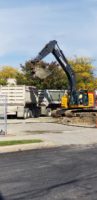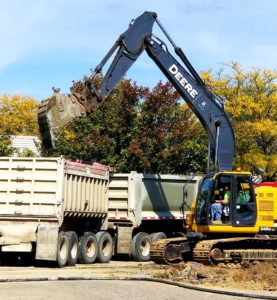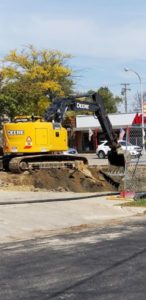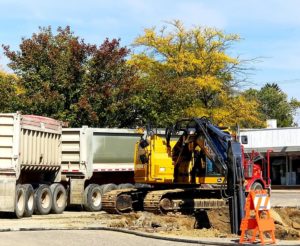 (SANILAC COUNTY) – After a week of rain and wind storms, construction workers have begun working on property in Sandusky that many years ago, used to be a gas station.
The paved lot, located at the corner of South Speaker Street and South Elk Street, had capped off contaminated soil for years and City Manager Dave Faber said the State contacted them and asked if they would like the site fixed.
On Monday, September 28th, crews were busy digging up the contaminated soil and removing it off site. The strong odor of gasoline was present when driving by the site.
Following several days of rain, crews had to pump the hole out, removing thousands of gallons of contaminated rain run-off, transporting the gas tainted water to a privately owned Waste Water Treatment Plant in Detroit.
Meanwhile, the contaminated soil is being hauled by large trucks to the landfill on Ruth Road, just north of M-46 in Bridgehampton Township, according to city officials.
Faber said the State is footing the entire bill for excavation to be done, replace soil with a combination of sand and stone and then paving.
When the work is completed early next month, the City will have a new parking lot, at no cost to them.
Workers are digging a hole 15 feet deep over the entire lot, according to Faber, to allow for the removal of the contaminated soil.
Residents and motorists in the area may smell gasoline odors in the air, but are not in any danger with the air quality.
Sidewalks adjacent to the worksite have been closed off to pedestrian foot traffic during the project.