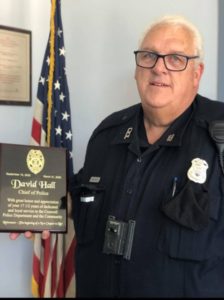 (SANILAC COUNTY) – Dave Hall, who dedicated his life to helping the community while working in law enforcement for nearly five decades, passed away late last week after a battle with cancer.
His friends and those close to him said Hall was a great mentor, police officer and friend to everyone who knew him. Hall was a police officer for 49 years, serving in various departments in Sanilac County.
He started his career at the Lexington Police Department before being hired at the Sanilac County Sheriff's Office for 30 years, retiring with the rank of Sergeant. Hall then took a position as Chief of Police in Croswell where he served for 17 years before retiring.
However, his retirement didnt last long, as he took a part-time position with the Lexington Police Department, working as a patrolman.
Services for Hall will he held Friday, September 24th at 1 pm at the Croswell fire hall.
Visitation will be at the Croswell fire station on Thursday from 3 to 7 pm and again on Friday from noon until time of service.
Following the service, around 2 p.m., a funeral procession with first responders and police will travel from the fire hall through downtown Croswell before heading east on M-90 to Lexington.
The processional will then circle around the Lexington Marina before heading back west on M-90 back to Black River Road to the cemetery.