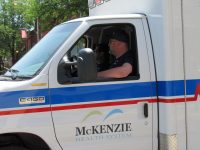 Sanilac County's three hospitals are among 51 in rural Michigan, and eight in the Thumb Region, that have been notified they will receive funding to help with COVID-19 testing.
Top State officials and the Michigan Department of Health and Human Services secured a $13 million grant from the Health Resources and Services Administration for 51 small, rural hospitals in Michigan to support COVID-19 testing and mitigation.
According to state officials, the funding will help rural hospitals continue serving their communities by expanding COVID-19 testing capacity and mitigation efforts.
Rural hospitals with less than 50 staff will be able to use the funds for testing equipment, personnel, temporary structures or education.
Mitigation strategies must be part of the CDC community mitigation framework, including education, contact tracing, communication and outreach.
Each hospital will receive about $257,000, which must be used within 18 months of receipt. The Michigan Center for Rural Health, which serves as the Michigan State Office of Rural Health, will distribute the funding to the hospitals.
Local hospitals sharing over $2 million dollars are; McKenzie Health System, Marlette Regional Hospital, Deckerville Community Hospital, Harbor Beach Community Hospital, McLaren Thumb Regional in Bad Axe, Schurer Hospital in Pigeon, McLaren Caro Hospital and Hills and Dales Hospital in Cass City.