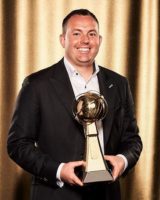 (ARTICLE COURTESY OF THE SANILAC COUNTY NEWS 7 SPORTS EDITOR MIKE GALLAGHER)
(SANILAC COUNTY) – Congratulations to Sandusky alum and Milwaukee Bucks General Manager Jon Horst, who led the Bucks to their first NBA title since 1971.
Horst, the 2018-19 NBA Executive of the Year, graduated from Sandusky in 2002, before playing for Rochester College.
He was a member of Rochester's back-to-back United States Collegiate Athletic Association national championship teams in 2004 and 2005.
After graduating from Rochester, he began as an unpaid intern for the Detroit Pistons, working for former General Manager Joe Dumars and Assistant General Manager John Hammond.
After working as an intern for two years, he was hired as the Pistons' Manager of Basketball Operations.
In 2008, Hammond was hired as the Milwaukee General Manager, bringing Horst with him, as his Director of Basketball Operations.
In 2017, Hammond was hired as the Orlando Magic General Manager, and Horst was promoted to General Manager of the Bucks.
Two years later, he would win NBA Executive of the Year, after helping the Bucks to a league-best 60-22 record and an appearance in the Eastern Conference Finals.
In December of 2020, Horst was able to re-sign NBA Most Valuable Player Giannis Antetokounmpo, to one of the largest contracts in league history (6 years, $255.6 million), setting the Bucks up for another championship run.
After building a solid supporting cast around Antetokounmpo, Horst and the Bucks finally broke through for their second-ever NBA title, earning a 4-2 series victory over the Phoenix Suns.