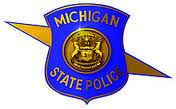 (DECKERVILLE) – A second Sanilac County business has failed to comply with orders from the Michigan Department of Health and Human Services and as a result, law enforcement became involved.
On Thursday, a 23-year old Deckerville man was taken into custody following an altercation at the Silver Tavern in Deckerville.
Police from multiple agencies responded to the bar after receiving reports of several intoxicated people fighting, both inside and outside of the business.
Police were also advised of one man possibly having a weapon and another being down on the ground by a nearby residence.
Several people involved in the incident fled the scene before police arrived.
At least one subject was reported to be resisting police, allegedly fighting with MSP Troopers while another was allegedly verbally abusive.
Two people were detained by police who were told a man had gone to his pickup truck and returned with a shot gun.
Troopers say the bar was open for business, serving people inside the building, despite the order by the MDHHS to not be open indoors.
The Deckerville man was arrested for disorderly conduct, assault and resisting officers as well as possession of a firearm while intoxicated.
The Silver Tavern, along with Big Boy in Sandusky, have both now been reported to MDHHS for violation of orders to cease indoor dining and service.
Troopers were assisted by the Sandusky police department and the Sanilac County Sheriff Department.
The incident remains under investigation.