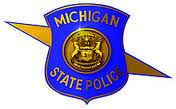 (TUSCOLA COUNTY) – Monday evening., troopers from the Michigan State Police Caro Post responded to a single-family residence in the 5000 block of W. Sanilac Road for a carbon monoxide poisoning incident.
Vassar Fire Department and Mobile Medical Response responded to assist with three residents that had potentially lethal levels of carbon monoxide in their system.
Initially, the first responders did not recognize the signs and symptoms of the exposure and had left the home.
One resident later collapsed and fell unconscious in the home, prompting a second 911 call.
All occupants were transported from the residence by ambulance to a local hospital and are expected to survive.
Subsequent investigation revealed the residents live in an older mobile home that had lost power due to the recent storms.
The residents were using a gas-powered generator outside to run essential equipment inside the home however, metal sheeting was used to cover the generator to keep it protected from the elements.
The generator exhaust was aimed directly underneath the mobile home.