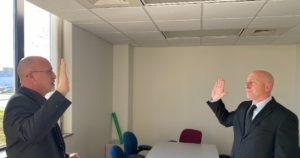 St. Clair County Clerk Jay DeBoyer gives the Oath of Office to Sheriff Matt King (courtesy photo)
(Port Huron) Mat King, who was elected Sheriff of St. Clair County on November 3rd, was appointed interim Sheriff Tuesday afternoon by a panel of three elected officials of the county.
Per Michigan statute, the panel, consisting of Prosecuting Attorney Mike Wendling, Probate Judge Elwood Brown and County Clerk Jay DeBoyer posted the position for any citizen to apply to become sheriff until January 1st.
In a meeting, they made the decision to appoint Mat King as sheriff for the approximately seven weeks until he will take the reigns as the duly elected sheriff.
King was sworn in by Jay DeBoyer in a ceremony at the St. Clair County Courthouse at about 2:00 p.m. Tuesday.
Sheriff King will be filling out the remainder of Sheriff Tim Donnellon's term.
Donnellon left his post early to take a position with the Michigan Gaming Control Board.
"I am pleased that the board made the decision to appoint me sheriff," said King. "I believe it is important to have a smooth transition moving forward towards my first term as the elected St. Clair County Sheriff. I would also like to thank the citizens of our community and the employees of the Sheriff's Office for their tremendous support."
King began his career with the Sheriff's Office in 1998, working his way up to the rank of Captain prior to his election as Sheriff earlier this month.
Sheriff King is now swearing in members of the Sheriff's Office, who will have to be sworn in again once his elected term begins on January 1, 2021.