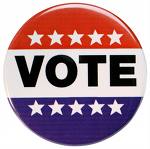 With the General Election just a few days away, voters throughout Sanilac County are deciding who they will support when they go to the polls.
Locally, there are a number of Township Board openings along with one position on the Sanilac County Board of Commission.
Three people are running for two positions on the Marion Township Board with Teresa Stringer, Thomas VanSickle, and Suzette Vogel vying for two trustee positions.
In Sanilac Township, there are contested races for supervisor and for treasurer as Joseph Donnelly and Dan Kelly square off for the Supervisor position and Dru Moran and Tazia Milarch are vying for the Treasurer's job.
Three people are competing for Supervisor in Speaker Township including Tracy Sheldon, Jean Ann Fuller and Janice Priess.
In Worth Township, three candidates will square off for two trustee positions including Barbara Milsap, Thomas Gilbert and Dick Martin.
After incumbent Joel Wyatt rallied to win his Primary race in August, the only Commissioner seat being decided in November is in District 1 where Jon Bloc and Creg Berger will battle. All other Commissioner seats are unopposed, barring write-in candidates.
Incumbent and longtime board member Dan Dean has decided to step down from the board. District #1 includes the townships of Argyle, Austin, Delaware, Evergreen, Forester, Greenleaf, Lamotte, Marion, Minden, and Wheatland.
Also in Sanilac County, when voters go to the polls at the General Election on Tuesday, November 3rd, they will have just one race in each of a city and township.
In Croswell, there are four candidates running for three positions on the city council. The candidates include Cindy Fockler, Donald Maury, Denise Sloan, and Pat Schott with the top three vote-getters being seated on council.
Meanwhile, in the Village of Lexington, two people are running for Village President and a list that includes five people as candidates for three spots on the Village Council.
James Gesock and Kristen Kaatz are working to earn the voters support for President while Larry Adams, Michael Fulton, Dennis Klaas, Kathy Parraghi, and Taryn Strausser are competing for council.
Polls open on Election Day at 7 a.m. and will close at 8 p.m.