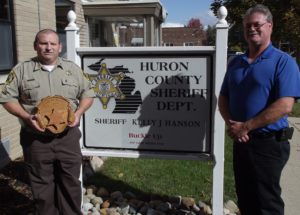 After over 35 years of service to the Huron County Sheriff Department, Sergeant Steven Bischer's last day on the job ended at 3 p.m. October 7th. The Ruth native was originally hired as a part-time Turnkey in 1985 by then Sheriff Richard V. Stokan, being promoted to full-time status a year later.
He worked his entire career in corrections, earning the rank of Corporal in June of 2010, then Sergeant in February of 2018. Sheriff Kelly Hanson said as far as he knew, no Deputy has ever served as long in Corrections as Bischer.
Hanson said Bischer and Deputy James Detgen foiled an escape attempt in one of his more memorable happenings while serving in corrections. An inmate was attempting to burn his way out through a skylight using an aerosol can and lighter, which set the jail on fire and seriously burned the inmate.
The two Deputies and quick response from Bad Axe Firemen minimized and extinguished the fire, while tending to the burned inmate until medical personnel took over.
Hanson said Bischer has also served the communities of Ruth and Ubly over the years as a fireman, fire chief and ambulance volunteer.