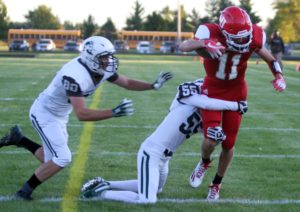 .
(photo courtesy of Sanilac County News – Mike Gallagher)
MARLETE 39 BROWN CITY 24
Junior quarterback Jason Tenbusch had a big night for the home team Friday night as the Red Raiders rolled to the GTC-East win over their rivals. Tenbusch finished the game completing 13 of 18 passes for over 220 yards and four touchdowns to spark Marlette to the win. Travis Fuller (three touchdowns) and Grant Roberson both hauled in scoring passes from Tenbusch. Senior standout Ian Schetter gained 109 yards rushing to spark the Red Raider rushing attack. Marlette led 19-8 after the first quarter and 25 to 8 at the intermission. Lucas Primeau gained 70 yards for Brown City and returned a kick-off 80 yards for a touchdown. Brown City will host USA this week while Marlette will take on Lincoln-Alcona.
DECKERVILLE 58 NEW HAVEN MERRITT ACADEMY 17
The Eagles racked up 300 rushing yards against the Mustangs, and held a 36-8 lead at halftime. Will Brown led Deckerville with 134 rushing yards on 15 carries, scoring five times. Brown scored on runs of 40, 20, four and one yards, and added a 70-yard kickoff return. Ethan Bowerman added an explosive, 126 yards on just six carries. He ran for two scores and added another through the air on an eight-yard toss to Traiten Colesa. Tyler Noll added 42 yards on six carries. Deckerville is now 1-0 overall on the season, and will travel to International Academy of Flint next week.
SANDUSKY 36 BAD AXE 6
The Sandusky Redskins opened the shortened high school football season with a 36-6 GTC crossover win over the Bad Axe Hatchets Friday night. Senior Delorrin Wedge led a balanced Redskins ground game with 104 yards on 11 carries and Martiv Tovar finished with 72 yards on 13 carries with two touchdowns and a two point conversion. The 'Skins built a slim14-0 halftime lead before opening thew game up with two scores in each of the final two quarters. Zach Franzel rushed for 73 yards and had 11 tackles. Sandusky gained 319 yards on the ground in their first game since returning from a season canceling decision in August, only to have the decision reversed a few days ago. The Redskins have a huge GTC-East battle Friday night when they travel to Harbor Beach.
CROS-LEX 52 IMLAY CITY 12
The new-look Pioneer offense produced immediate results on Friday night, and head coach Mike LeGrow earned a victory in his Croswell-Lexington debut. Offensively for the Pioneers, Vincent Scaramuzzino had 127 yards and two scores on 15 carries, all coming in the second half. Quarterback Jake Townsend was 7-of-14 passing for 78 yards and a touchdown, and rushed for another two scores and 49 yards on eight carries. He added four two-point conversions. Vincent Groppi contributed 53 yards and a score on eight carries, while Saige Slanec caught three passes for 67 yards and a score. The defense was led by Cam and Ean Butler, who combined for 21 tackles, 12 and nine, respectively. Isaac Lerma had a fumble recovery for a touchdown and added an interception. Joey Noll had nine tackles, and both Kirk Wilson and Seth Macias had a sack. Croswell-Lexington (1-0, 1-0) travels to Richmond (0-1) next week.