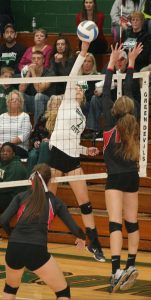 Two Sanilac County volleyball teams are in quarantine
The high school fall sports season was given a new lease on life, after being cancelled earlier in the school year, in light of COVID-19 concerns.
Early this week, the Sanilac County Health Department put out a notice that they were currently investigating a COVID-19 exposure incident from a Port Huron Northern High School volleyball tournament held Saturday, September 12th.
At that tournament, varsity girls teams from Croswell-Lexington and Brown City were participating and have been placed in quarantine while the SCHD continues to evaluate the exposure risk associated with this activity.
No confirmation has been made if and how many athletes from Sanilac County may have contracted the virus.
The isolation of the two Sanilac County teams comes on the heels of the Port Huron Area School District closing three schools after positive COVID-19 tests were reported.