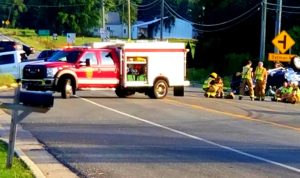 (ST. CLAIR COUNTY) –  A crash on M-19 south of the City of Yale yesterday closed the highway for over an hour and sent one person to the hospital with serious injuries.
According to St. Clair County Sheriff Tim Donnellon, deputies from the Sheriff's Office were dispatched to the 7500 block of North Brockway Road (M-19) shortly before 6:00 p.m. Monday for a rollover crash.
Investigation of the scene and statements from witnesses revealed that a 2011 Ford Ranger pickup, driven by an 82-year old Yale man was southbound on M-19 in the turn lane.
A 2011 Ford F-150, driven by a 70-year old man from Columbus Township was also southbound in the travel lane.
The driver of the Ranger merged into the travel lane and was struck by the F-150. The Ranger rotated and flipped onto its roof.
Members of the Brockway Fire and Rescue had to extricate the driver of the Ranger, who was transported by Tri-Hosptial EMS to McLaren Port Huron Hospital with serious injuries.
The driver of the F-150 was not seriously injured and was not transported.
Neither drugs or alcohol are believed to be a factor in the crash, which remains under investigation.