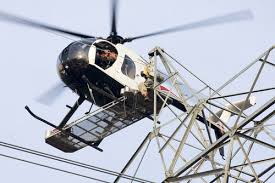 Helicopters will be checking towers and power lines
(AREA) – Residents throughout the Thumb Region may be caught off guard this week when they see low-flying helicopters near power lines.
Helicopters are scheduled to be in the area this week as they fly along miles of high-voltage transmission towers and lines for ITC Holdings in Sanilac, St. Clair, Tuscola, Lapeer and Huron counties.
The aircraft are also expected to carry out similar flights throughout the eastern half of Michigan.
During the inspection flights, company officials say the condition of equipment and vegetation are viewed visually for lightning and wind damage and other natural wear and tear.
ITC Holdings is the largest independent electricity transmission company in the United States and maintains over 16,000 circuit miles of transmission lines.
The inspection flights are expected to last through September 4th.