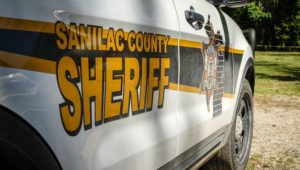 Two 14-year old boys were involved in a pickup truck vs dirt bike personal injury accident in Marlette Township Thursday afternoon.
According to the Sanilac County Sheriff Department, Central Dispatch received a 9-1-1 call reporting a truck / dirt bike injury crash at Koylette and Mayville Roads in Marlette Township.
Investigators say a 14-year-old male subject from Mount Pleasant was driving a 2004 Panterra dirt bike, going south on Koylette Road when he failed to stop at a stop sign at Mayville road.
Another 14-year-old male from Marlette, driving a 2011 Dodge Ram pickup, was headed east on Mayville Road and struck the dirt bike in the intersection.
The driver of the dirt bike suffered injuries and was treated by Marlette EMS and fire department.
He was later transported to McLaren Lapeer Regional hospital for further treatment.
Deputies say the dirt bike driver was not wearing a helmet. The accident remains under investigation.