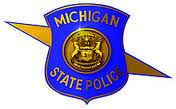 A 40 year old man wanted in connection with a murder of a woman in Detroit was arrested Thursdayat a residence in Caseville in connection with a homicide in Detroit the day before.
State Police at the Caro Post said the suspect had initially been stopped in Fremont Township of Tuscola County for a speeding violation, but at the time of the stop, Troopers were unaware of the Detroit investigation, and as a result released the man from the scene without incident.
After learning of the traffic stop, the Detroit Police and Michigan State Police started a joint investigation and located the subject's vehicle at a residence in Caseville Township of Huron County.
Law enforcement conducted a lengthy surveillance of the residence and was able to verify the subject wanted by police was still in the home.
Members of the Michigan State Police Emergency Services team made contact with the man and after making entry into the residence, he was taken into custody without incident.
A search warrant was executed on the residence in Huron County and several items of interest related to the homicide in Detroit were also found.
The 40 year old was lodged in the Tuscola County jail on unrelated charges. His name is being withheld pending arraignment and he's expected to be released to the Detroit Police Department for additional investigation.
Detectives say the woman was killed in her home late Wednesday evening and during the investigation, they learned the person wanted for questioning had been pulled over by Caro Troopers in Tuscola County.