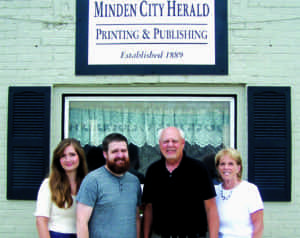 Amber and Nathan Marks, Paul and Janice Engel (Courtesy photo)
(SANILAC COUNTY) – Although it has been sold, the Minden City Herald will stay in the family. Longtime owners Paul and Janice Engel have sold the weekly newspaper to their grandchild and his wife, Nathan and Amber Marks.
The Engels have owned the paper since 1982, having bought it from Paul's parents who owned the publication since 1946, until selling it to Paul.
The Engels will continue to own Engel Printing and will operate that business from their same location in Minden City.
Nathan and Amber, and their three children, will be moving to Sanilac County from their home in Adrian, officially taking over the paper on August 1st.