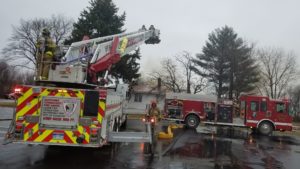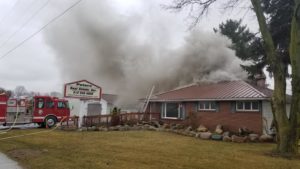 1:45 p.m. Friday – UPDATE: Sandusky fire department has cleared the scene at Peters Real Estate as of 1:40 p.m. Friday. The local business sustained heavy smoke, fire and water damage in a blaze that kept firefighters busy for five hours. Brown's Express – the Marathon gas station next door to the east – sustained heavy smoke damage and early on in the incident, the business could not be seen from M-46, being shrouded in a cloud of smoke.
The Sandusky fire department was called to a structure fire early Friday morning on the west side of town.
Heavy smoke was reported coming from Peters Real Estate on West Sanilac Ave around 8:30 a.m.
The fire engulfed the entire roof of the structure, as well as much of the interior, fanned by strong westerly winds.
As of late this morning, firefighters from Sandusky, Moore Township and Carsonville remained on scene, after needing more than an hour to bring the fire under control.
Fire fighting efforts were hampered by winds and a metal roof making it difficult to get to the source of the fire.
Sandusky police and the Sanilac County sheriff department shut down M-46 to traffic during the incident.
As of 10:30 a.m., no injuries have been reported and cause of the fire remains undetermined.
Updates will follow as more information is received.