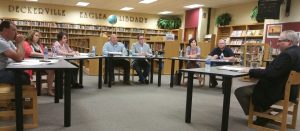 The Deckerville school board and Michael Hugan discussed possible bond proposal
(DECKERVILLE) -The Deckerville school board held a special board meeting Wednesday evening to discuss a tentative bond proposal for the August 2020 election.
Superintendent Michael Hugan said the meeting was an opportunity for the board to listen to input from the public while also reviewing cost estimates from project consultants.
The board discussed length of term, a possible renewal or increase for funding and prioritization of district needs.
Hugan said the district currently has a .54 mill tax on the books and the board is taking time to consider a renewal request, or a possible minimal increase that if the board chose to do so, could bring the district up to one mill, generating just over $1.9 million dollars if voters approved the request in August.
Among the district needs, according to school officials, are roof repairs, instruction improvements, new gym bleachers and a new gym floor.
Hugan said he has a meeting with the State Treasury Department March 16th and will need direction from the board if, and how, they wish to proceed.
The board tabled any action, pending further discussion, fact finding, and public input.
More information is expected following the regular board meeting February 24th.