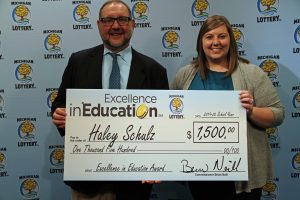 A Huron County educator known for her dedication to help students reach their full potential and for helping them develop as leaders through school and community programs has been honored with an Excellence in Education award from the Michigan Lottery.
The award winner, Haley Schulz Cucinello, is in her fifth year teaching high school agricultural science and serves as the FFA advisor for the Elkton-Pigeon-Bayport Laker Schools in Pigeon.
The Michigan Lottery established the Excellence in Education awards in 2014 to recognize outstanding public school educators across the state during the school year.
Winners of the weekly award receive a plaque, a $1,500 cash prize, and a $500 grant to their classroom, school or school district. One of the weekly winners will be selected as the Educator of the Year and will receive a $10,000 cash prize.
During her five years as FFA advisor at Laker Schools, Schulz Cucinello – a former FFA member and state officer – has had "six national qualifying teams, 14 state champion teams and four FFA state officers.