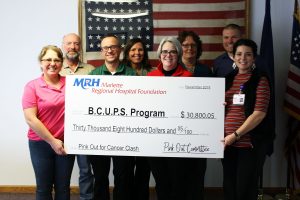 Marlette Regional Hospital's Foundation & Marketing Manager Sara Redman (pictured right) accepted the check on behalf of the hospital. She is pictured with committee members (left to right) Kasey Trudeau, Steve Kohler, Neil Kohler, Sue Burton, Sarah Barratt, Kendra Jickling, and Brad Hale. Not pictured are committee members Tony Burton, Chris Clark, Aren Cooper, Garnett Kohler, and Denny Lester.
(BROWN CITY) – Representatives of the 2019 Pink Out for Cancer Clash committee recently presented a record-setting check for $30,800 to the Marlette Regional Hospital (MRH) Foundation following a successful rivalry football game fundraiser between Marlette and Brown City schools that took place this fall.
Proceeds from the event supported MRH's B.C.U.P.S. (Breast Cancer Understanding, Prevention and Screenings) program. This program has provided free mammogram screenings to hundreds of Thumb Area women, primarily for those that are uninsured, and provides financial assistance for testing services like diagnostic mammograms, ultrasounds, and biopsies.
The program also provides grant funding to Thumb Area patients that have been diagnosed with breast cancer.
MRH Foundation Manager Sara Redman commented, "The Pink Out for Cancer Clash committee never ceases to amaze me—they're always striving to make the fundraiser as successful as possible to support our friends and neighbors in this worthy cause. We're pleased to have a program like B.C.U.P.S. available to Thumb Area residents and it's made possible thanks to the volunteer efforts of groups like this and the generosity of our communities."