SANILAC COUNTY NEWS SPORTS EDITOR MIKE GALLAGHER HAS GRACIOUSLY ALLOWED US TO REPRINT HIS STORY AND PHOTOS OF THE LEGION HOCKEY TEAM – FEATURING SEVERAL LOCAL ATHLETES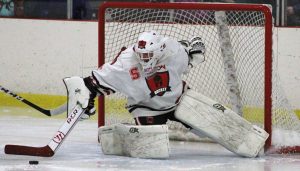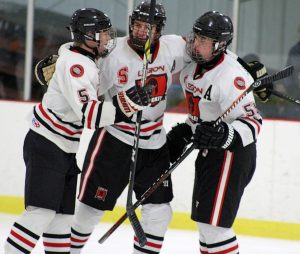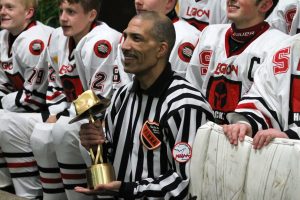 SANDUSKY – Behind a big first period performance from Seth Beagle and a three-goal night from Brady Franzel, the Eastern Thumb Area Legion hockey team picked up its first win of the season Wednesday night, over the Bay Area Thunder, 6-2.
"This is big," said Legion head coach Larry Camp. "You could see it on their faces in the locker room, and you could see it on the ice after we got the win. Losing is really hard on teams, especially when they are young. We lost our first two games, and I think they were a bit down. After something like this, we'll have a bit more jump in our step."
The Legion jumped out to a quick 1-0 lead in the first period, as Beagle punched in a goal just 36 seconds into the game.
"It was important because you could see the energy on our team lifted," Camp said. "Right away, they felt like they were in the game."
"It was huge," Beagle said of the score. "It really demoralized the other team and really got us going."
Franzel got the Legion's second goal with 5:51 left in the period, and then Beagle scored shortly after, with 4:05 left in first, to give the Legion a 3-0 advantage.
In the second period, the Thunder responded with two goals, both by Jackson Raymond, but Andrew Vogel, a freshman from Ubly, and Franzel both found the back of the net to keep the Legion up, 5-2 at the end of the second.
Vogel's score was assisted by Michael Kreger, while Beagle assisted on Franzel's goal.
With 5:05 left in the third period, Beagle delivered another assist, to Franzel, to give the sophomore from Sandusky a hat trick.
"I just decided to start sharing the puck more," Beagle said. "I had a lot of guys going after me after my second goal, so it really opened up some opportunities for other players."
Beagle added of Franzel: "He's been doing great. He has more points than me right now, and we've been working really well together as teammates, and I'm having a lot of fun with him."
In net for the Legion, Josh Smith made 31 saves on 33 shots.
The Legion is now 1-2 on the season, and will play again Thursday night, as they host Port Huron.
"The win was really big for us," Camp said. "We played with a lot of speed tonight and that was the difference. Our guys are less hesitant and I was happy with that aspect. We're not playing physical enough and our systems are still not hitting on all cylinders yet, but this was big for us."